Community Resources
Nestled along the southeastern shore of the Atlantic Ocean, Glynn County is comprised of the city of Brunswick, including its historic district, and a string of barrier islands known as the "Golden Isles," Jekyll Island, St. Simons Island, Little St. Simons Island, and Sea Island. Each has its own unique identity: quaint historic downtown Brunswick, Jekyll Island's quiet beaches of white sand, the bustling boutiques and savory cafes of St. Simons, the pristine natural beauty of Little St. Simons, and the classic luxury of Sea Island. Each area is unique, yet an integral part of what makes Brunswick and the Golden Isles one of the best places to call home.
If you would like further information, please contact the Golden Isles Development Authority.
Geography
Glynn County and the city of Brunswick are located in coastal southeast Georgia, at approximately 81-30-00 north latitude and 31-15-00 west longitude and encompass 439 square miles. Glynn County is conveniently located between Savannah, GA, and Jacksonville, FL (at 70 miles south of Savannah and 55 miles north of Jacksonville). Atlanta, GA, lies 200 miles northwest of Glynn County.
How to Get Around
Glynn County is easily accessible by air and ground. Commercial air service is available daily between the Brunswick Golden Isles Airport (BQK) in Brunswick and Hartsfield-Jackson Atlanta International Airport (ATL) via ExpressJet/Delta Connection. To book a flight, go to www.delta.com and use airport code BQK. As well, travelers can utilize the McKinnon St. Simons Island Airport for private air travel. For more information on Brunswick Golden Isles Airport and the McKinnon St. Simons Island Airport, contact the Glynn County Airport Commission at www.flygcairports.com. 
By road, Brunswick and the adjacent Golden Isles are easily accessible traveling north or south via Interstate 95 (at exits 29, 36, 38 and 42) or US. Hwy 17, which connects I-95 exits 29 and 42. From the west, Brunswick is reached via US 341, 82, 25 or 520. The islands are connected to mainland Brunswick via causeways and bridges.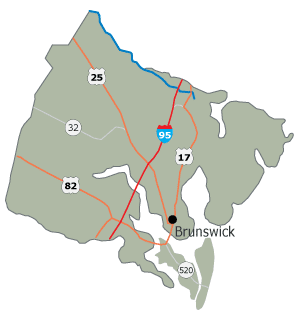 Important Phone Numbers and Information
Glynn County Population (2016 est.)         84,739
Glynn County Per Capita Income               $56,952
For county information specific to new residents (including taxes, licenses, voting, utilities) in Glynn County, go to: https://www.glynncounty.org/623/New-Resident. Call 912-554-7111 for questions regarding Glynn County services or departments.
For information on living in the city of Brunswick, go to: http://www.brunswickga.org/living.html. Call 912-267-5500 for questions regarding city of Brunswick services or departments.